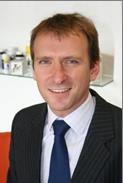 Stephen Barabas is a graduate of Glasgow University veterinary medicine and zoology faculties. He has worked in mixed practice in the west of England and North Wales, and continues to work in small animal clinics in the London area. During his career he worked in Cumbria during the 2001 FMD, and as a technical manager for VetPlus and Schering-Plough, both within the UK and Internationally. He has been secretary and past President of Central Vet Society, member of the NW Vet Society and sits on the BVA Council as the London Representative and on the
Appointment Committee choosing future BVA Council Committee members.
In 2008 he set up Animal Oracle Limited a web development company specialising developing IT tools and websites for the pharmaceutical companies and vet practices in the UK and abroad. In 2010 he set up VBS Direct Ltd., a company aimed at providing innovative solutions to help veterinary surgeons and nurses in practice improve their range of therapies for domestic pet and their profit margins. The area of expertise that VBS Direct provides are Class IV Therapeutic Lasers (K-Laser) for human and veterinary wound, soft tissue, post surgical rehabilitation, and pain management control, he has published veterinary and human papers. More recently he diversified into veterinary surgical Class IV laser, Aesculight, to bring bloodless-pain free surgical techniques to vets. It has published data on regenerative medicine platelet regenerative medicine for dogs and horses (V-PET), and leading European Own Brand veterinary, pharmaceutical-grade supplements. VBS Direct also works with medical professionals in the NHS and private healthcare for humans utilising the rehabilitation and pain management benefits of the K-Laser.