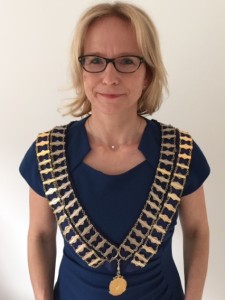 Nienke graduated from University of Ghent in 1989. She has spent all her working life in the UK, starting in a mixed practice in Essex before going onto a number of small animal practices and hospitals in the London area.  In 1995 she was in the first cohort of veterinary surgeons to gain the RCVS Certificate in Small Animal Surgery.
After taking a five year career break overseas when she started a family, she returned to UK in 2003. Since then she worked part time for a number of small animal practices, as Lecturer in Anatomy and Physiology at the College of Animal Welfare and as Examiner for the Certificate in Small Animal Practice (GPCert SAP) for the European School of Veterinary Postgraduate Studies. In 2007 she became the Veterinary Director of the National Animal Welfare Trust.
In 2013 she was awarded a Master in Business Administration (MBA) from the Open University. She became a veterinary surgeon at Envigo in 2013 and currently works at GlaxoSmithKline.